Investing in an industry-leading state of the art facility and a highly skilled workforce has enabled us to produce exceptionally designed and manufactured caravans. With our range continually growing, we are committed to our industry and our customers. We will strive to continuously innovate and create luxurious & safe caravans to suit all caravan enthusiasts
Meticulous planning and industry knowledge
Our process begins with meticulous planning and industry knowledge. Only the best and most practical layouts find their way onto our design schedule and are offered to the caravanning public. All caravans are put through rigorous testing and quality control during and after the build process to achieve the perfect caravan. The building process itself starts with an Australian made galvanised steel chassis. You choose your level of suspension from standard Leaf through to the suitable level of Independent suspension depending on your requirements and lifestyle. Upgraded wheels and tyres are also an option. Built strong to withstand the toughest of conditions you can rest assured your chassis will remain solid and provide a steady foundation so you can relax and enjoy exploring in your Design RV for many years to come.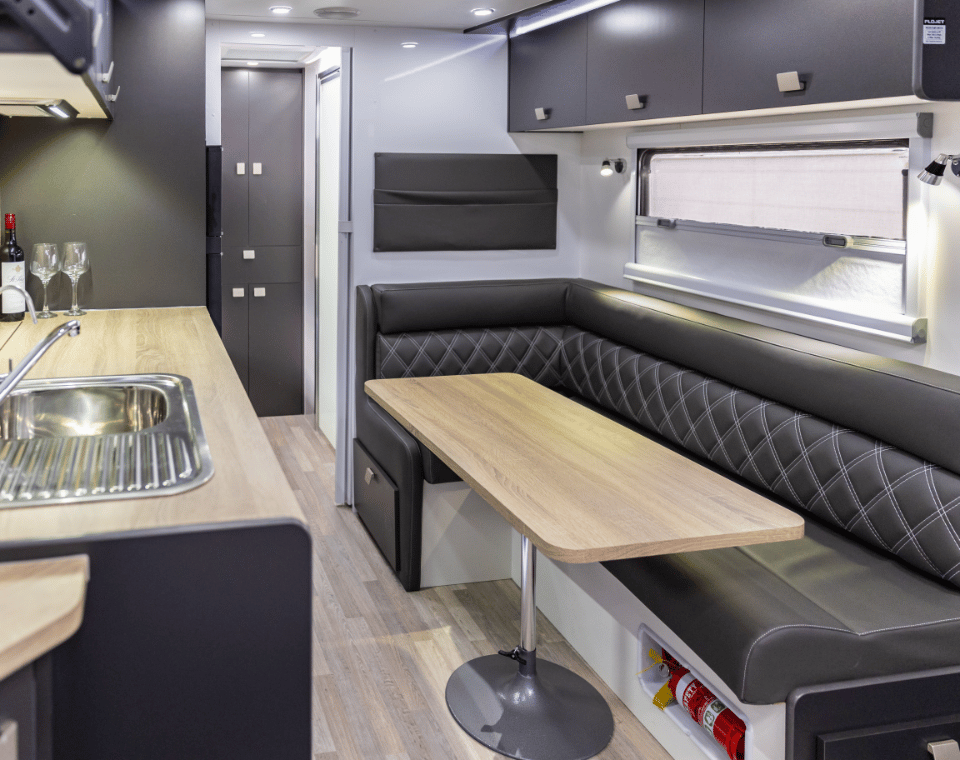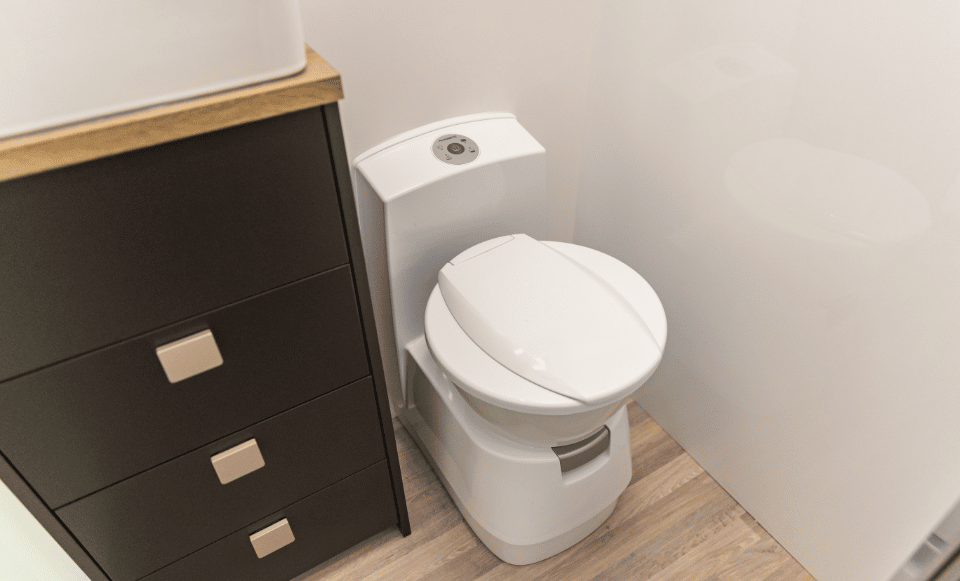 Next we start the assembly process where the caravan begins to take shape. Here the solid one piece flooring system, floor coverings and walls are assembled. We use only galvanised bolts to attach our walls for added strength.
Our floors are bonded one piece which means no joins, no creases, no creaks and peace of mind for many years to come.
The process then moves to the Building area where our skilled builders assemble and fit off the caravan's furniture, end walls and roof. Many long held industry skills are applied to the building of the caravan, skills that set apart a Design RV Caravan from our competitors.
Once the caravan leaves this area it's starting to take shape. Quality is of the utmost importance and all caravans leaving the building department are put through a rigorous Quality Control inspection.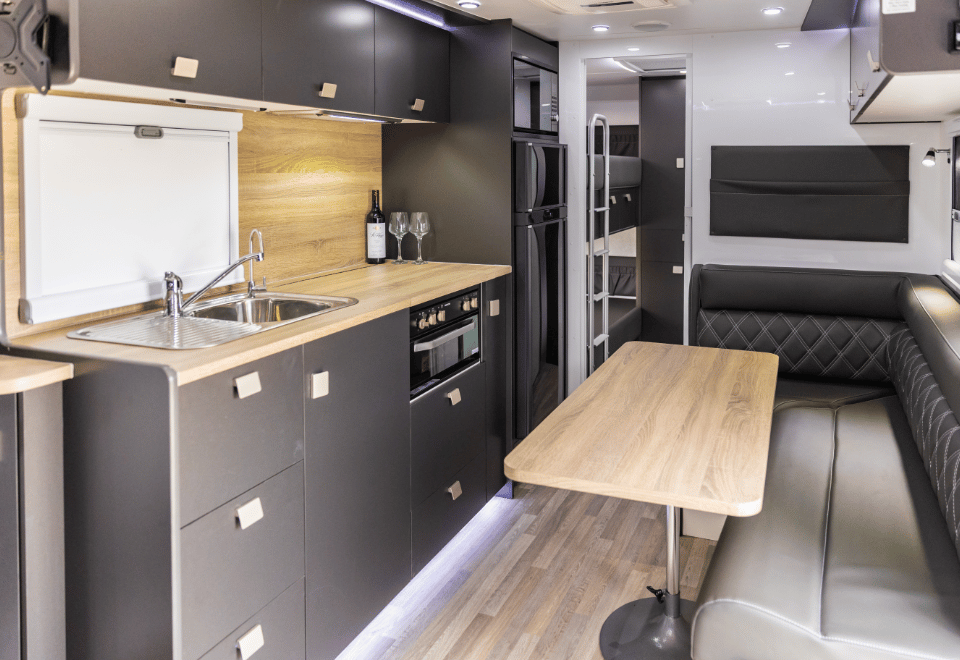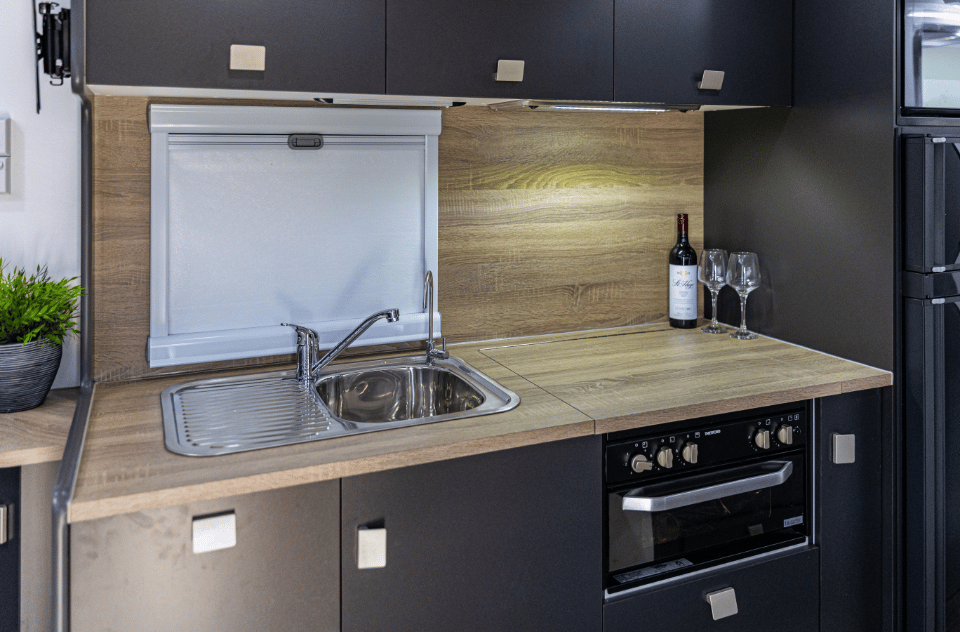 Electrical and Plumbing rough-in is next with all existing and extra items noted in the planning being added to the caravan. Again this is a crucial step in the process and all care must be taken that all items are included and correctly installed prior to entering the cladding or as its known Aluminium area. Once in Aluminium the van is firstly fully insulated then clad in either classic White profile or the eye catching Metallic Silver profile finish. Composite smooth sided cladding options in a variety of colours are also available that offer a stunning effect to your finished caravan. Checker plate finishes in Black, Grey or Silver are also fitted at this stage. We are sure to have a finish that will fulfil your dreams of the ideal caravan.
Internal & External Finishing
Next is External Finishing with everything from Windows to Tunnel Boots to Access Doors being fitted. Attention to detail is critical and all sealant finishes must be neat and precise, any pin holes detected and corrected. Extras such as BBQ's and Bike Racks are also some of the extras items that are fitted in the External Finishing area. Once checked off as correct and all items have been fitted the caravan then proceeds to the Internal Finishing area. In this area items such as the Microwave Oven, Magazine Pockets, Upholstery and the Bed are installed. Another important link in the chain where attention to detail is everything.
The next step is Electrical Fit Off where the lighting, power and Battery Management Systems are fitted (including Reversing Camera and Solar Panels) among other items. Once again attention to detail is crucial as with all departments and strict Quality Control measures apply. Decals are also added during this stage. The caravan is now sent through to final Cleaning and dedicated Quality Control area where the van as a whole is inspected for any consequential damage or items that may have occurred or been left off during the assembly process. This area is dedicated to ensure that the level of quality required and expected is achieved prior to it leaving the factory.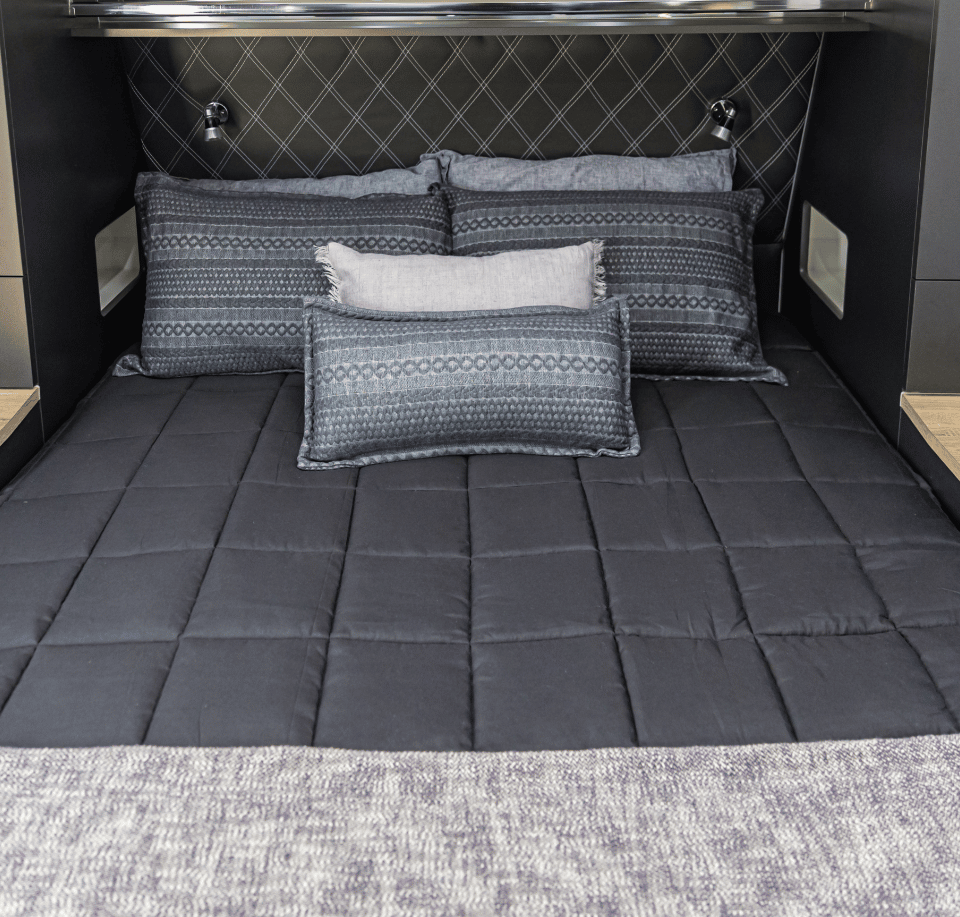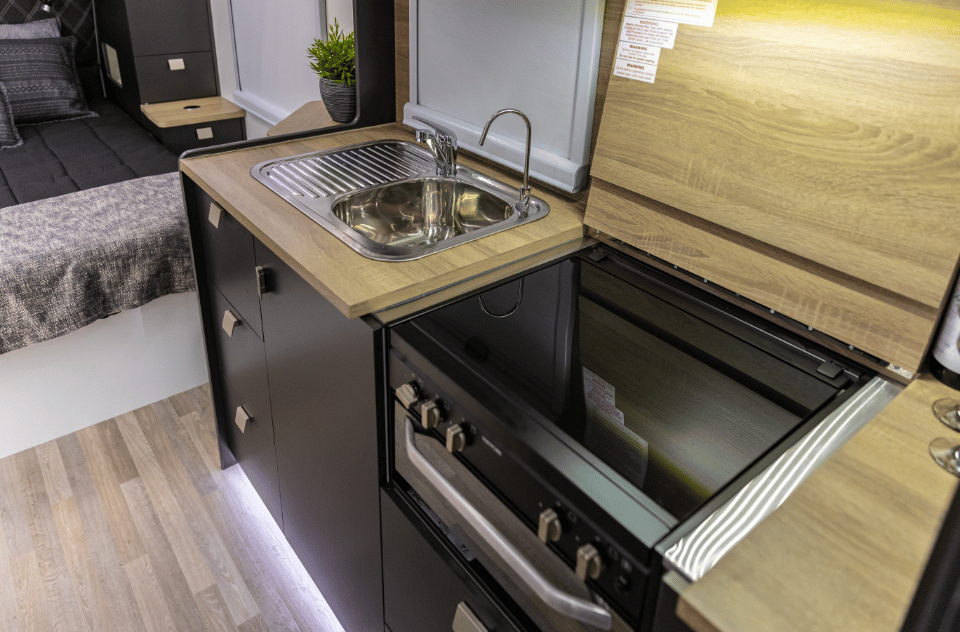 Last step is Gas, Water and Electrical tests and certification and as final measure before being transported to the selling dealership all Design RV Caravans are externally water tested to ensure your caravan is water tight and ready to explore and travel this great land of ours. Rest assured all Electrical, Gas and Plumbing standards are adhered to whilst building our caravans. Standards and building regulations are constantly changing and we must stay ahead of the curve and ensure we meet these standards to provide not only quality but also legality to our customers. We put the work in so you can enjoy the benefits and pleasures that your new Design RV will bring.
What People Are Saying About Design RV
What an experience the Mica has given to us! The van has been amazing to tow and has enabled us to travel to so many beautiful places. Can't wait to the road again.
Tayla & Darryl Pearce
Me and my wife were not experienced in caravanning. However, the team at Design RV walked us through every step of the way, giving us the confidence to make our first purchase. The vans are amazing!
Kyle & Heather Williams
We have always wanted to see the outback and we have not been disappointed with where we have been in our CRX. We took delivery of our caravan and were immediately impressed with the quality. All of the extras we requested made our trip even easier to complete, we love our van.

Ben and Kate Bartlett